Seasonal
Landscape / Grounds Maintenance / General Labour - Temporary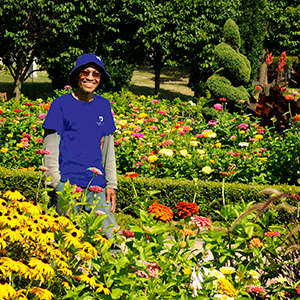 Do you have a passion for horticulture or grounds maintenance? Do you enjoy working outdoors and being physically active? Do you take pride in your work and is it important to you that the work you do makes a difference in people's lives? Would you like to be part of an amazing team? If you answered "yes" then our Property Services team would like to talk to you. We are looking for motivated Seasonal Employees to assist with maintaining the grounds of several of our properties within the Greater Toronto Area.
We have been caring for families in the GTA for nearly two centuries. We operate ten cemeteries, nine funeral centres and four cremation centres, all serving the distinct needs of the communities where they are located. And we are made up of an amazing collection of people who recognize that what they do every day is genuinely meaningful to the families we serve.
We are hiring for the upcoming grounds maintenance season at the following locations:
Beechwood Cemetery – Vaughan's Jane Street and Highway 407 area;
Elgin Mills Cemetery – Richmond Hill's Leslie Street and Elgin Mills Road area;
Meadowvale Cemetery – Brampton's Mavis Road and Hwy 407 area;
Mount Pleasant Cemetery - Toronto's Yonge Street and St. Clair Avenue area;
Pine Hills Cemetery – Scarborough's St. Clair Avenue and Birchmount Road area;
Prospect Cemetery – Toronto's St. Clair Avenue and Dufferin Street area;
Thornton Cemetery – Oshawa's Thornton Road and Taunton Road area;
Duffin Meadows Cemetery - Pickering's Brock Road North and Fourth Concession Road area;
York Cemetery – Toronto's Yonge Street and Sheppard Avenue area.
Some benefits of working for the Mount Pleasant Group of Cemeteries include:

Reputable, progressive organization
Consistent work schedule, no shift work
Income stability
Boot allowance (after completion of probationary period)
Partial uniform provided as well as any required personal protection equipment where necessary
Seasonal reemployment opportunities if successful thru probationary period
Job responsibilities may include:
Grass Maintenance - cutting, trimming all developed areas of cemetery. Use of zero–turn riding mowers, gas powered push mowers and line trimmers, leaf blowers as well as hand tools such as rakes and shovels.


Flower Bed/Special Feature Maintenance - cultivation, planting, weeding, watering and fertilizing of high profile flower beds and special feature areas. Use of frontend loaders, golf carts and utility vehicles for shrub bed mulching.


General Ground Maintenance - restoration of burial plots including edging, regrading, top-soiling and overseeding, sodding and watering. Shrub pruning, garbage collection, re-leveling memorial markers. These operations require the use of frontend loaders, utility vehicles, pull behind wagons and various hand tools such as shovels, rakes, hedge trimmers, sod roller and cutter.


Other duties as assigned
The ideal candidates will be capable of working with minimal oversight but willing and able to follow direction. Training will be provided at work site.
Qualifications:
Valid Ontario Class G2 Driver's Licence, or better, and acceptable driving record;
Able to perform physical labour and lift up to 50 lbs (up to 80 lbs. with assistance) and operate light equipment;
Able to work outdoors in various weather conditions;
Able to understand and carry out verbal and written instructions;
Ability to provide excellent customer service to cemetery families
Experience in gardening, landscape, and/or construction is an asset.
Hours of Work:
Monday to Friday OR Tuesday to Saturday;
8:00 a.m. to 4:30 p.m.;
40 hours per week.
Hourly Rate:
Start at $14.21 with progression to $18.76.
Benefits:
Boot Allowance, Vacation Pay;
Medical and Dental Coverage, Health Spending Account, etc. (after qualifying requirements are met)
Start Date / Duration:
Spring to Fall - approximately 16 weeks, generally starting in April/May.
Please send an updated resume and

Email

: recruitment@mountpleasantgroup.com
The Mount Pleasant Group is committed to providing equitable opportunities to all applicants and welcomes applications from all qualified persons. We will provide accommodation in recruitment as needed. If you require an accommodation, please notify us and we will work with you to meet your needs.