Tom Bitove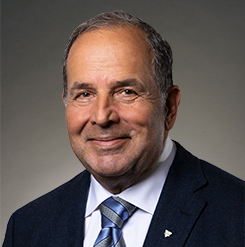 Thomas J. (Tom) Bitove is Chair of PowerBev Inc. and PUR brands Inc., Ontario and B.C.'s exclusive distributor of Red Bull Energy Drink, respectively, as well as ColdHaus Direct Inc. a major distributor of beer and wine in the province of Ontario and the national distributor of other premium products. A second-generation Canadian businessman, Tom grew up in the family business, a 32 restaurant chain named JB's Big Boy Family Restaurant with stores in B.C., Alberta, Quebec and Ontario. After graduating from the University of Western Ontario, Tom joined the family business as a Store Manager. He worked his way up to become Vice President, Operations before the chain was sold. During this time Tom partnered with his brother, Nick to create the Hard Rock Café chain in Canada. As President and CEO of the Bitove Corporation, Tom was instrumental in winning bids to operate the food-services at Lester B. Pearson (Toronto) International Airport, the Restaurants and Suite catering at SkyDome (now Rogers Centre) as well as operating Canada's largest Travel Centre business. He also served in the inaugural Board of Directors of the Toronto Raptors from 1993 to 1996.
Tom is currently on the Board of Directors and Executive Committee for ProAction, Cops and Kids an organisation dedicated to raising funds to support police interaction with youth-at-risk. He is Honorary Lieutenant-Colonel of the 7th Toronto Regiment of the Royal Canadian Army, and Honorary Chief of Police of the Toronto Police Service. Tom was invested in the Order of Ontario in 2007, and received the Queen's Diamond Jubilee Medal in 2012.
Tom has been a member of the board since 2022.