Honoring Your Loved Ones with Wreaths for the Holidays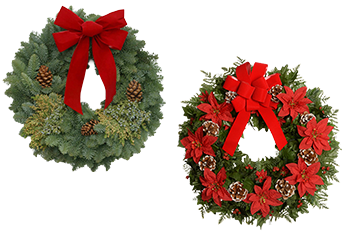 As the holidays near, many of us are reminded of loved ones and friends who have passed on. Finding a way to recognise them during this time is a beautiful symbol of our remembrance and gives us an opportunity to memorialise their grave sites. Many people choose to do this with specially made wreaths. Not only does the circular floral arrangement symbolise this time of year, it's also an appropriate adornment for your loved one in their Toronto cemetery.
Ways to Remember Those You've Lost During the Holiday Season
The holidays can be hard when you have experienced loss. There are a lot of memories and traditions that can take on a nostalgic meaning instead of the usual joy of the season. This is a natural expression of grief, and there's nothing wrong with acknowledging those feelings. Everyone has their own way of remembering loved ones at this time of year, but these are some traditional methods:
Floral arrangements and wreaths displayed at the graveside.
Displaying holiday pictures that rekindle happy memories.
Lighting a candle to symbolise their presence during the holiday season.
Write your loved one a message and leave it with their memorial.
Ask your local funeral centre or place of worship about holding a remembrance service for your friend or loved one.
There are hundreds of ways to commemorate someone's life year-round, and each person has a unique way of doing so that relates to their specific loss.
Choosing the Right Wreath for the Occasion
Especially during the holiday season, it can be difficult to know how to find a wreath that really symbolises what you are feeling. This is an expression of your love and a way to commemorate the life of someone special to you. These suggestions can help you pick the perfect wreath for the occasion:
Choose flowers that had some personal meaning to your loved one.
Use colours that symbolise their favourite time of year.
A classic white wreath is always appropriate and can be an excellent gift for others who are grieving.
Some people confuse the spray with the traditional wreath. A spray arrangement is usually a bit larger and doesn't have the opening at the center that we associate with wreaths. A wreath is much easier to hang and can be a better choice as a graveside memorial this time of year. Mount Pleasant Group provides a free easel and setup for those who order wreaths through us.
If you're interested in ordering a wreath to memorialise your friend or loved one during the holiday season, Mount Pleasant Group is here for you. We are currently offering reduced prices on our wreaths for families in the Greater Toronto Area. Choose a recommended design or ask about customising the arrangement to suit your specific needs.
Feel free to contact us online or call us at 1-888-277-2643. You can also reach us 24-hours a day, 7-days a week on our emergency line at 1-800-408-6033.
Go back