How to Commemorate the Anniversary of a Death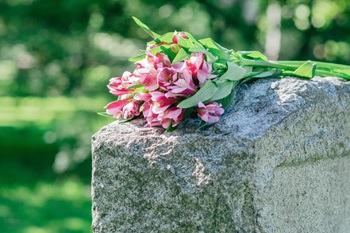 The anniversary of a loved one's death can be an important occasion. People may experience all sorts of emotions around this time, and wonder if there's an appropriate way to express them. Finding ways to commemorate a loved one's death, or in some cases, their birthday, can help people recognise the positive impact the person had on the lives of those around them.
Memorial services
Some people organize memorial services on the anniversary of a loved one's death. If you're religious, you may ask your spiritual leader to give your loved one a mention in that week's service. You may wish to include them in your prayers, or light a candle or make an offering in their memory. Secular memorials can also be organised, and can be anything from a simple remembrance ceremony with family and close friends, to a celebration of life gathering with a more cheerful atmosphere.
Personal acts of remembrance
You may decide to make the anniversary of the deceased's death a more private time of remembrance for you and those closest to you. Many people choose to visit the final resting place of their loved one and leave flowers. It can be especially meaningful to make your commemoration particular to your loved one's personality. Perhaps there was a charity or cultural venue they would have appreciated you donating to in their name. Or maybe they had a favourite food or drink you'd like to make in their honour and enjoy with friends. Some people even choose to have special jewellery made, or get a photograph printed and professionally framed. You can mark the occasion of your loved one's passing in the manner that's most meaningful to you.
Finding something to celebrate
The anniversary of a loved one's death doesn't have to be a somber occasion. It can be a time to celebrate the wonderful moments you experienced together, whether that's simply by going through old photos and videos or visiting their favourite place. You can even go to a home game played by their favourite sports team, or put on their favourite music and dance. There is no wrong way to recognise the impact a loved one had on your life.
If you're looking to organize a memorial service in the Toronto area, Mount Pleasant Group can help you choose the best options to commemorate your family member or friend. Contact our funeral home in Toronto for more information.
Go back