How to Deliver a Heartfelt Eulogy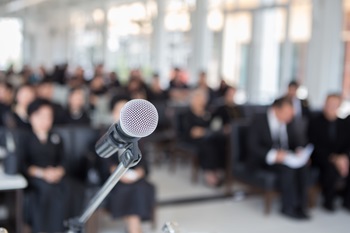 Delivering a eulogy is a significant way to honour a family member or friend who was important to you. If this is the first time you're delivering this type of tribute, it can be hard to know what to say. At Mount Pleasant Group, many eulogies have been delivered in our Toronto and GTA funeral centres, and we can offer you guidance on writing and delivering a eulogy.
How to write a eulogy
Rest assured, there is no right or wrong way to write a eulogy. As long as your words come from the heart, you can consider it a success.
If you're not accustomed to public speaking or writing, it can be hard to know where to start. The best way to begin is by thinking of a theme to tie your speech together. Talking to the people closest to the deceased and finding out more about their life can give you some ideas.
A basic structure of a eulogy
What you say will depend on your relationship to the deceased and the tone of the funeral, but most eulogies follow this basic structure:
Thank the guests for being there, and introduce yourself and your relationship to the deceased.
A brief outline of your loved one's life. Don't make this part more than a few sentences.
Funny or touching stories about the person. These may be treasured memories, or stories that exemplify the kind of person they were.
End by saying a final good bye to the person you've lost. This can be done by addressing the guests, or speaking to the deceased directly.
Have a loved one read it over for you. Even the best writers have editors who make their work even better.
Tips for delivering a eulogy
For many people, public speaking is a challenge. Here are some tips that may help:
Don't be afraid to use a little humour to lighten the mood, especially if your loved one would have appreciated it.
Write it all out. Even professional public speakers have their speeches on note cards when addressing an audience.
Speak slowly and deliberately. Make sure your voice is clear and loud enough for everyone to hear you.
If emotion gets the better of you, take the time you need to regain your composure. The guests will understand.
Honouring Your Loved Ones
If you need assistance in honouring a loved one, a staff member from any of our Mount Pleasant Group funeral centres in the GTA will be happy to assist you. Contact us today at one of our Toronto area locations for more information about planning a funeral and making arrangements.
Go back