Our Eco-Friendly Cremation Technology—the First in North America!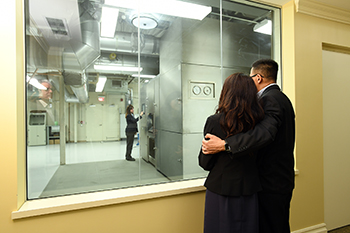 We at the Mount Pleasant Group would like you to know about our latest cremation technology. It has not only the lowest carbon footprint in the Greater Toronto Area, but is the first of its kind in North America. With this cremation technology, we strive to ensure that your loved ones are honoured in the safest and most respectful way possible.
How does a crematorium work?
Different cultures and religions have had different practices for performing cremations throughout the centuries. Modern day crematoria, however, typically consist of two burning chambers, a fire source, and a chimney to take away any emissions from the process.
Traditional crematoria aren't much more than this. They tend to burn the casket and remains in the primary chamber at an intense heat, take around 120 to 180 minutes to complete the process, and release any emissions directly into the atmosphere by way of the chimney.
How is Mount Pleasant's crematorium different?
At the Mount Pleasant Group, however, we have installed state-of-the-art technology that reduces our crematorium's carbon footprint. Because of our upgrades, we produce no more carbon monoxide in a year than is produced by someone mowing their lawn for seven hours.
Our cremators burn at 800°C with a unique air circulation system inside the chamber that reduces the process's carbon footprint. The burning process is entirely controlled by a computer system that takes into account the unique size and weight of each casket. The process takes from 70 to 150 minutes to complete, and any emissions then go through a complex filtration process before being released.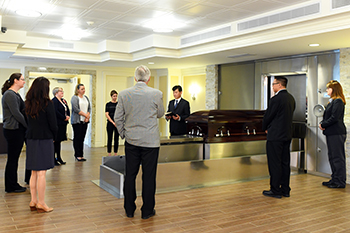 At Mount Pleasant Group, we have updated our cremation technology to the most reliable and environmentally friendly option available in order to help you and your family have peace of mind about the funeral process. Our facilities are also specially designed to make cremation witnessing possible in a comfortable, modern and dignified environment.
Since the nineteenth century, the Mount Pleasant Group has helped the Toronto area with its funeral needs. Our efforts to provide the latest crematorium technology contribute to our ongoing commitment to provide the communities of Brampton, Toronto, and the rest of the GTA with every means possible to honour their loved ones in the way that they choose.
Contact us today to find out more about what your options are or to learn more about our crematorium.
Go back