Ways You Can Customize Your Casket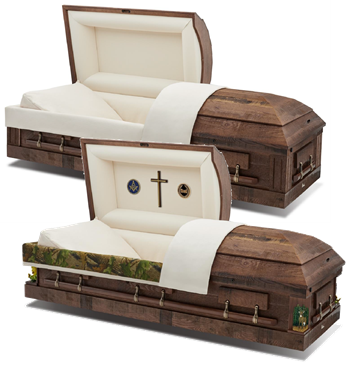 If you've recently lost a loved one, or are pre-planning your own funeral, you may want to take special care when choosing a casket. There are a wide variety of caskets available, in many different styles and materials. However, for a more personal and special touch, you might want to consider casket customisation options available at the Mount Pleasant Group's funeral centres in the GTA.
Types of caskets we offer
Whether you prefer cremation or burial in a Toronto area cemetery, a casket is a necessary component in a funeral. We offer many design options, from the simple to more ornate wooden caskets lined with luxurious fabric.
Customisation options
A funeral is a deeply personal event. To this end, a number of casket interiors and exteriors can be customised with accessories that reflect the deceased's personality.
Many caskets offer the option to replace the standard casket corner with a design that represents the person's affiliations or hobbies. These can range from army insignia to religious symbols to markings representing their interests, such as fishing or sewing. Corners like this make wonderful keepsakes for the family.
Some caskets include a drawer for placing personal items like books or journals, awards or medals of honour. There is also the possibility that the casket you choose has a record holder, a small drawer accessible from the outside that can hold personal notes or photos.
You can decorate the inside of most caskets as well. There are many options for casket inserts that are mounted on the inside of the lid. These can be used to display treasured photos of the deceased, custom embroidery or significant emblems.
Mount Pleasant Group's Funeral Centres in the GTA
The staff members at our Toronto area funeral homes are available to help you plan a funeral or make cemetery arrangements for yourself or a loved one. Call us today for more information about the services we offer.
Go back