Comfort Food During Times of Grief: A Time-Honoured Tradition
If someone you know has recently lost a loved one and you are not sure what you can do for that person, you are not alone. Many of us struggle to decide the best way to comfort a friend or relative who has lost someone close to them. While your heart goes out to this person, and you may promptly offer a sincere condolence message, there are several other ways to show your support and provide assistance. From helping the family with arrangements at a funeral home in Toronto to organising Celebration of Life events, you can contribute significantly.
Being physically present with such a person is one of the best ways to show how much you care and wish to help. Often, those who are suffering and grieving say that they may want to be left alone, but consciously or unconsciously, they value the gift of your presence. You may also want to just listen, as they talk about their lost loved one. Resist the temptation of narrating your own past losses because grief is a unique feeling and everyone deals with it at a different pace and manner.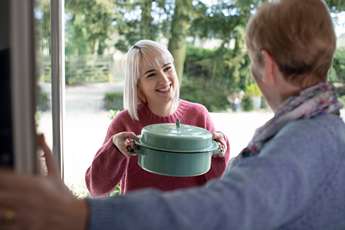 Instead, offer to help with other practical tasks around the house, including looking after the children, making calls on behalf of the person, assisting in arrangements for the rituals ahead, and such. One other way time to provide comfort to those who are grieving is through the time honoured tradition of offering a meal. Food brings everyone together not just in good times, but also in difficult ones.
Top Tips from A Leading Funeral Home in Toronto
Grief struck people are likely to skip eating or do a poor job of taking care of themselves. Providing a wholesome meal is a great way to help grieving families while they mourn the loss of their loved ones. Here are some tips on how you can offer comfort food during their difficult times: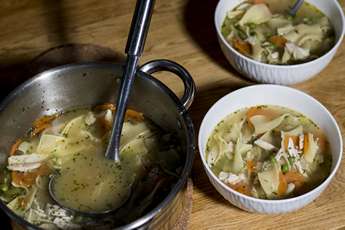 Consider the Practical Aspects: While putting together a comfort meal:
Check how many people you are looking to feed. If the grieving person's home is filled with family members and friends, you need to account for the quantity of food accordingly.
Take into consideration how you will be transporting the food to their home.
Consider items that are easy to warm up before being served or can be saved or frozen for future consumption, if they so wish.
Try to use dishes or containers that do not need to be returned to you.
Include hearty items such as stews or soups, slow cooker meals, or casseroles. For many people, comfort food includes dishes such as macaroni and cheese, chicken soup, spaghetti and meatballs, chilli, lasagne and other such items.
Keep it Nutritious: As far as possible, try to keep the meals nutritious. Comfort food items will not only offer emotional support in the grieving process, but also contribute to the physical strength and well-being of a person who may be feeling weak or drained due to the tragic circumstances.
Be Mindful of Allergies: While you are trying your best to offer support and comfort to those who are grieving, be mindful of food allergies to avoid any potential problems in an already difficult time. Do not hesitate to ask if you are unsure.
Keep Them Informed: Grieving people may have a tendency to reject all the help that people offer. Usually this is just a reflection of their present state of mind as they deal with the loss of their loved one. While you may not wish to give the family an option to accept or decline your offer to bring them a meal, do try to notify them beforehand that you are taking charge of this aspect.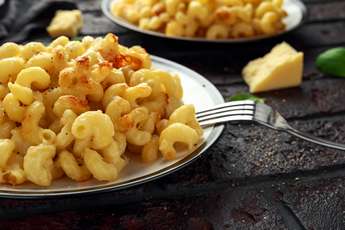 The Meal Matters: When you are offering a meal to a grieving family, what matters is the gesture and the food. It is not important if you cooked it yourself or you brought pre-cooked items from the store. Depending on the circumstances, you could also consider inviting the family over to your home for the meal instead of taking it over to theirs.
In Times of Grief, Rely on the Mount Pleasant Group
While you are considering the ways and means to help your grieving friends and family members, feel free to reach out to Toronto's Mount Pleasant Group for any assistance on burial, cremation and other religious or cultural rituals. We operate ten cemeteries, nine funeral homes in Toronto and four cremation centres in and around Toronto and Greater Toronto Area (GTA) and our culturally diverse employees are closely connected with the communities we serve.
For any assistance on products and services related to burial, cremation, and memorials, call our general enquiry number at 1-888-277-2643 or contact us at one of our funeral centres or cemeteries. In case of emergencies, you can reach us 24 hours a day, 7 days a week on 1-800-408-6033.
Go back