How to choose funeral flowers by understanding their meanings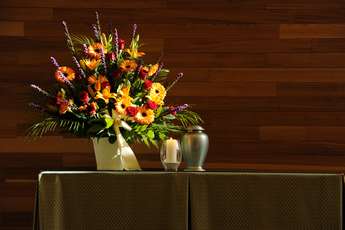 Planning a funeral is a trying task with many particulars that need to be sorted. Among these details is the issue of flowers. As with all other aspects of funeral arranging, you have choices and there's no one right way to do it. When considering flowers, know that there are two things you'll need to decide: what arrangement(s) you want and what specific flowers to use.
Types of arrangements
Floral arrangements can be incredibly elaborate or severely simple statements. These are the most common types found at funeral homes in GTA communities like Richmond Hill and Markham.
Casket sprays. These are arrangements that lie flat on top of the casket and generally come to a point on both ends. Coffin floral arrangements can also be in the shape of a cross, heart or other symbol.
Sprays. These are floral arrangements that typically stand on an easel and can therefore be placed directly on the ground. Sprays can be single or double sided and are meant to be viewed from the front only.
Wreaths. Floral wreaths can likewise be placed on an easel or hung on a wall or door. When circular, they're said to represent eternal life. When heart shaped, they're symbolic of the love held for the deceased.
Bouquets. Bouquets are another alternative and are typically placed in vases within the funeral home. Baskets, posies and container arrangements are also frequently used. Potted plants are another option.
5 Flower types and their meanings
The so-called "language of flowers" was an important component of Victorian-era living. These days, the ascribed meanings of various blooms are largely forgotten. However, it can be a useful reference point when selecting your funeral flowers. These are the five most common types of flowers used in arrangements at funerals.
Lilies. This may be the most common type of flower found at funerals. They come in different varieties and colours. White lilies are said to represent the soul's return to a state of innocence. Stargazer lilies symbolise sympathy, thereby making them more appropriate as gifts to the grieving family.


Roses. While in general roses are said to symbolise love, this meaning is modified based on the colour of the blooms. White roses represent innocence and humility, yellow roses represent friendship and loyalty, pink roses show appreciation and grace, and dark red roses at a funeral symbolise grief and sorrow. A single rose in an arrangement indicates enduring love for the departed.


Carnations. These flowers are long-lasting and mildly fragrant. The white ones symbolise untarnished love, red indicates admiration, and pink suggests remembrance.


Chrysanthemums. In many European countries, mums are exclusively used in funerals and grave sites. In Asia, they symbolise mourning and grief. However, in North America they're generally considered a more cheerful flower.




Gladioli. These tall-stemmed flowers come in multiple colours and are symbolic of strength of character, earnestness and integrity.
Beyond flowers
Mount Pleasant Group has nine funeral homes and 10 cemeteries in the GTA, including Richmond Hill, Markham, Oshawa, Pickering. For caring and compassionate assistance with your funeral arrangements, contact us today.
Go back