Memorialize Loved Ones at Your Toronto Cemetery with Bronze and Granite Markers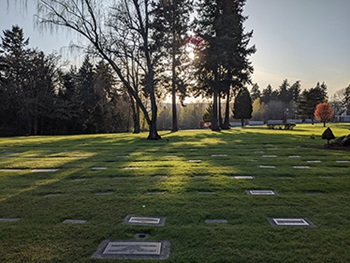 There's nothing easy about the decisions you are left with after a loved one has passed on. At Mount Pleasant Group, we understand this. Therefore, we strive to provide you with a wide variety of beautiful bronze and granite marker options that
will create a fitting memorial for the people you care about and love dearly even after they are no longer around.
Bronze Markers
The look and feel of bronze memorials is both classic and ornate. The face of the markers will be customised to include the information that's unique to each person and can also display engraved pictures or graphics of your choice. Each bronze marker is affixed to a solid granite or concrete base and guaranteed to withstand the test of time.
By law, all cemeteries in the Greater Toronto Area require grave markers to be made from either granite or bronze. This uniformity is part of what creates a sense of serenity in cemeteries from Brampton to the more populated areas of Mississauga. Knowing what can and can't be done with grave markers is important when choosing the design and layout.
Bylaws Governing Grave Markers
Additional laws pertaining to markers in a Toronto cemetery are listed below:
All bronze markers must be affixed to a granite or concrete base.
This base must be flush with the ground.
All markers and bases made of granite are required to be at least 3-inches thick.
Photographic attachments or ceramics are prohibited on markers and vases due to their fragile nature.
Markers can't be placed until the grave has settled.
Granite Markers
While many people prefer the look of bronze combined with the granite base, the stone itself can make a beautiful memorial when handled correctly. Granite markers come in a variety of colours, including:
Red
Black
Pink
Dark Grey
Light Grey
Mahogany
Green
Pearl Blue
Paradisio
Blue
Make sure that you look at each colour individually when making the decision. All granite chosen for grave markers and memorials is high-quality and strong enough to resist weathering. Colour is usually the most difficult choice for many people.
If you plan on using a bronze marker, then it helps to see what shade of granite the bronze compliments. Contrast will help the words to stand out and can make the overall look more appealing.
When using only granite for the marker, the choice of colour can be even more important. Using electronic imaging allows you to get an idea of what the finished product will look like with your choice of lettering and design. Granite has a beautiful reflective surface that will create depth when professionally polished.
Ready to Choose a Grave Marker in the Greater Toronto Area? We're Here to Help!
At Mount Pleasant Group, we understand the importance of a choice like this. Each of our markers are professionally designed and can be customised to fit you and your loved one's unique needs. We can offer lettering in all languages with flexible payment options to accommodate everyone.
Please reach out to us online or give us a call at 1-888-277-2643. You can also contact our emergency line any time, day or night, at 1-800-408-6033.
Go back