Sending Sympathy Flowers—A Beautiful Tradition
No Toronto Cemetery is Complete without these Floral Tributes!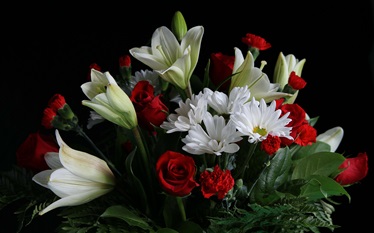 Sending floral arrangements as a sign of respect or condolence has been a time-honoured tradition for thousands of years. It symbolises the beauty of life and expresses sympathy in ways that many of us find difficult during times of loss. Funeral flowers are appropriate when the family has not specified otherwise, and when the arrangements won't violate any religious beliefs.
We, at Mount Pleasant Group, know that during difficult times, even small decisions can become monumental ones. Therefore, we've extended the online floral arrangement ordering option to our clients in the Greater Toronto Area. Our partnership with local florists allows you to choose from a wide variety of arrangements, and to easily send a loving symbol of your sympathy and support.
Choosing the Best Flowers for the Memorial
Most sympathy flowers will be delivered to the funeral home prior to the service, allowing them to be arranged around the room properly. When this isn't possible, they can be sent directly to the home of the bereaved. In this instance, smaller arrangements or potted plants may be more suitable.
Ultimately, the choice of flowers and arrangements will depend on the recipient. If the deceased had a preference, it can be a touching display of respect to choose flowers that they would have loved. If you are unsure of their personal preference or of the best arrangement to choose, these guidelines can help those planning the funeral.
Sprays are standalone floral arrangements; but they only have flowers displayed on one side.
White lilies can symbolise peace and may be combined with other choices to tone down brighter colours.
Roses are a good choice when arranged in a subtle way.
Wreaths are circular floral arrangements that can symbolise everlasting life and can be featured at the graveside during and after the funeral.
Casket sprays are the flowers designed to lay across the top of the casket. These are usually chosen by tho
For more elaborate arrangements, the florist will usually provide the appropriate stand.
The choice of vase, basket, or hanging arrangement should depend on available space. When in doubt, a vase can be placed anywhere and shouldn't intrude on floral displays chosen by the family.
The colour of the flowers is usually white, red, or consistent with the favourite colours of the deceased. There are times when brighter colours are appropriate, such as a celebration of life or at the request of the family.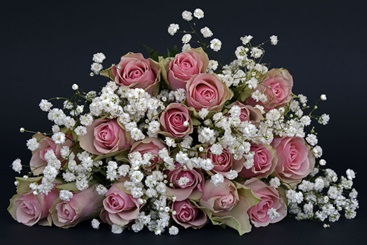 An Outward Expression of Love and Sympathy
Sending flowers is about more than just sending a lovely gift to those who are grieving the loss of a loved one. It's a deeply symbolic way to acknowledge their feelings, and to express your love and sympathy.
Working with a florist through Mount Pleasant Group can make the process of choosing a proper sympathy floral arrangement easy.
Please don't hesitate to call our emergency line at 1-800-408-6033 any time day or night. You can also contact us online or during business hours call us at 1-888-277-2643. We work with Toronto cemeteries and ones located across the Greater Toronto Area to bring you service that's both compassionate and efficient.
Go back