The Good Mourning Festival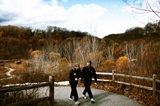 November 4th - November 5th, 2023, 11 AM - 5 PM at Evergreen Brick Works - Evergreen's Good Mourning Festival aims to bring different communities and cultures together to celebrate, commemorate and share experiences of death and grief. The festival invites the public to come together to reclaim death as a special part of life. There will be a diverse array of workshops, food, shopping, art installations, walks and more that you won't want to miss. See below for details on each day.

About Walk With Me
Mount Pleasant Group is proud to support Mammalian Diving Reflex's Walk With Me While I Remember You on November 4 & 5 at Evergreen Brick Works. Moving through a nature path, we follow a series of young people as they direct us through the inexorable web of love, grief and hope. Vast, subtle and gently unfolding, this performance offers profound moments of meaning and glimpses of lives lived and lost. Through this one-on-one participatory walking performance, patrons will be led through a natural environment and given the space to listen, reflect and share. Walk With Me While I Remember You is a loving tribute to the joys and heartaches of life, family, and finding connections where we least expect.

About Evergreen
Evergreen is a national non-profit transforming public spaces in our cities to build a healthier future for people and our planet. Evergreen Brick Works, located in Toronto's ravine system, is a year-round destination where the world comes to experience sustainability in action. Once an industrial brick factory, it is an internationally renowned showcase of green design, an award-winning public space and a test site to pilot ideas that can shape our cities for the better.