Imre Szabo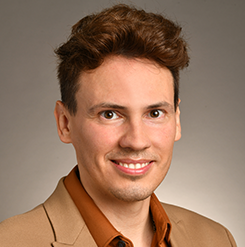 Imre Szabo was born and raised in Hungary. After he immigrated to Toronto, he realized the importance of a good Canadian education. Imre considers himself a person sensitive to other peoples needs, a compassionate and great listener. He experienced the loss of both of his parents as a teenager. As a result of this he decided to follow his calling to Funeral Services education at Humber College.
Imre has worked as a licensed funeral director in various Funeral Homes in the GTA in the past 12 years. Over that time he had the privilege of arranging and directing services from all cultures and faiths. While Imre gained extensive experience in all aspects of funeral and cemetery services, he mostly cherishes the difference he was able to make in families lives.
Imre recently moved into a pre-planning role, to use his experiences to educate families about the importance of making arrangements in advance. There are so many pros for pre-planning, but there are no cons. However, for most people the planning process brings up a unique set of questions, challenges and concerns.
Imre would be honoured to guide you through this process at any of our locations.
Email: iszabo@mountpleasantgroup.com
Tel: 416-459-7034
Fax: 416-221-6739