Pet and Family Section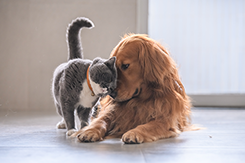 Our Pet and Family Sections are located at Meadowvale Cemetery in Brampton, and Thornton Cemetery in Oshawa. Each section has been specifically designated for those individuals who are looking for a final resting place for themselves and their pets.
| | |
| --- | --- |
| Meadowvale Cemetery Section 15 | Thornton Cemetery Section 1 |
Each of these specially designed sections provide a natural barrier through landscaping from our human only areas within the cemetery.
As explained in the Pet and Family Interment Options section, human interment can be in the form of casket burial, as well as cremated remains burial, niche entombment and scattering. Pet interment allows for the burial, niche entombment or scattering of pet cremated remains either with their owner or separately. Please note, at this time we are only offering interment of pet cremated remains.
How "Pets" are defined
As per our Cemetery By-laws, pets are considered to be any domesticated animal that commonly cohabits in family households for companionship or support. It excludes exotic animals, farm animals and wild animals.
We do not offer Pet Cremation services
It is important to note that we do not offer pet cremation services. We are not set up to cremate non-humans. There are a few private pet crematory operators in Ontario that pet owners can work with directly. The most common approach is to arrange for cremation services through the veterinarian that you typically use. The veterinary offices work with providers who have package options available. Once you have your pet's cremated remains we can assist with a final resting place.