Feedback and Complaint Process
At Mount Pleasant Group (MPG), our purpose is to make the memories of life and the wishes of loved ones the heart of everything we do while providing each and every family with care, compassion and choice. Your feedback in this regard is important to us. It provides us with an opportunity to improve on the services we deliver and the products we provide. We encourage you to let us know as soon as possible if we have not lived up to our commitment to you. Any positive feedback you wish to share with us is also welcomed, and we ask for you to send it to the e-mail address below.
Providing Us Feedback
Your feedback and comments can be provided to us through our customer service questionnaire or by contacting us directly:
Customer Service Questionnaires:



Following the purchase of an Interment Right or a Funeral Arrangement, we will send a questionnaire asking for feedback on your experience with us. All of the returned questionnaires are tracked, classified and, where appropriate responded to.



Direct Contact


Let us know if you have a complaint or concern
Begin with the funeral or cemetery employee who served you – you may call, email, or write a letter to express the details of your concern. Once in receipt, we will acknowledge your concern within 2 business days and provide you with an expectation of when, and from whom, you will receive a response.

The majority of concerns are resolved at this stage, however, if you are not satisfied with the outcome, you can ask for your concern to be referred to a manager.



Talk to Management
If you wish to contact management directly, we ask that you please contact the location office by telephone or email. We ask that you identify your name and telephone number, who you have been dealing with and any specific detail you are comfortable sharing. Your concern will be acknowledged within 2 business days and we will provide an expectation of when, and from whom, you will receive a response.


Ask for further review
If you are not satisfied with the response or the way we have handled your concern, you may escalate your concern in one of four ways:
Ask the location Manager to escalate your concern to a Senior Manager
Complete and submit the Client Complaint Registration form below
Send an email to clientfeedback@mountpleasantgroup.com
Call our Corporate Office at 416-696-7866
Your concern will be acknowledged within 2 business days and we will provide an expectation of when, and from whom, you will receive a response.




Client Complaint Registration
Client Information
What you can expect
The following 7 step Complaint Handling (click for PDF) process is followed by all MPG employees from our front line staff through to our Senior Management team. Your feedback is very important to us.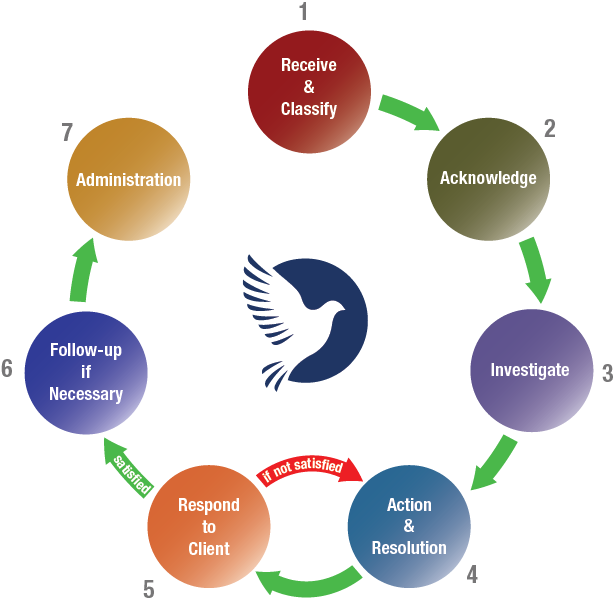 Step 1 - Receive and Classify
All complaints are a priority
Whenever possible we will ensure that all potential issues are captured and classified before acknowledgement
Step 2 - Acknowledge
We will acknowledge receipt of a complaint within 2 business days of being contacted
We will provide written, email or verbal confirmation of when, and from whom, you will receive a response and an overview of our complaint handling process
Step 3 - Investigate
All interaction and communication (who, what, where, when, why, etc.) will be investigated and documented
We will determine underlying issues and root cause of the concern
We will identify if the concern is unique or if common occurrence is forming
Step 4 - Action and Resolution
We will develop a clear and fair resolution
We will review the solution from both the company and client viewpoint to ensure fairness and clarity
The review will include recognition and documentation of any underlying issues that have contributed to the experience and recommendations for actions to prevent further occurrence
We will implement (if necessary) and document the proposed action and resolution using MPG's Internal Complaint Record document
Step 5 - Respond to Client
We will provide you with a summary of our findings and actions within the timelines promised
If this cannot be done within the timelines promised, we will contact you to advise more time is needed
We will respond to each concern. Regardless of how the complaint was received (telephone, letter, questionnaire) or initially responded to, we will deliver our response in a manner acceptable to both parties
If the action and response is not satisfactory to you, we will revisit the resolution and/or move to next level of management
Step 6 - Follow Up if Necessary
If deemed necessary, complaints may be followed up to confirm that you were satisfied with the response and action given
Step 7 - Administration
All Complaint Records and relative documentation will be submitted and retained in a central file
All Complaint Records will be reviewed by Senior Management of the respective company
Complaint Status Reports will be reviewed by Senior Management on a quarterly basis
Categorized complaint summaries are included in our Quarterly Scorecard for MPG's Board of Directors


Our work environments are governed by several pieces of legislation (i.e. AODA, Bill 168, Human Rights) that are for the protection of everyone present. They focus on behaviours that will lead to professional, respectful and positive relationships and make it clear what is inappropriate or unacceptable. All employees of MPG follow these guidelines and greatly appreciate when our customers and visitors also remain respectful in the midst of any problem resolution in regards to product or service delivery.
External Recourse
If you have gone through MPG's Complaint Process and are not satisfied with the outcome, you can contact the Bereavement Authority of Ontario (BAO). The BAO is a not-for-profit corporation, responsible for administering provisions of the Funeral, Burial and Cremation Services Act, 2002 and associated regulations on behalf of the Ontario government.
The BAO is a resource available to you to register a complaint. Their online compliant process can be found by clicking the link below or you may contact them directly.
Bereavement Authority of Ontario
100 Sheppard Avenue East, Suite 505
Toronto, ON M2N 6N5
Canada
Tel: 647 483 2645
Toll Free: 844 493 6356
Fax: 647 748 2645



Whistleblower Policy

Mount Pleasant Group's Whistleblower Policy is intended to provide a safe and confidential mechanism for all current employees, directors, contractors and vendors of MPG to communicate concerns regarding unethical or illegal activities within the organisation.
To learn more about our Whistleblower Policy, follow the link below.