Canadian WWI Battles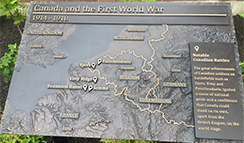 Canada's presence in the First World War had a significant impact on the outcome of the war. As a result of the achievements of Canadian soldiers on the battlefields of Ypres, Vimy and Passchendaele Canada earned its place on the world stage.

On the pages that follow, you'll learn about these key battles and developments that helped define Canada as a proud and confident nation.