Honouring Earlscourt's Service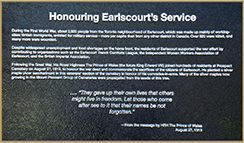 During the First World War, about 2,500 people from the Toronto neighbourhood of Earlscourt, which was made up mainly of working-class British immigrants, enlisted for military service – more per capita than from any other district in Canada. Over 320 were killed, and many more were wounded.
Despite widespread unemployment and food shortages on the home front, the residents of Earlscourt supported the war effort by contributing to organisations such as the Earlscourt Trench Comforts League, the Independent Women Workers Association of
Earlscourt, and the British Imperial Association.
Following the Great War, His Royal Highness The Prince of Wales (the future King Edward VIII) joined hundreds of residents at Prospect Cemetery on August 27, 1919, to honour the war dead and commemorate the sacrifices of the citizens of Earlscourt. He planted a silver maple (Acer saccharinum) in this veterans' section of the cemetery in honour of his comrades-in-arms. Many of the silver maples now growing in the Mount Pleasant Group of Cemeteries were propagated from the seeds of this tree.
…. "They gave up their own lives that others
might live in freedom. Let those who come
after see to it that their names be not
forgotten."


– From the message by HRH The Prince of Wales