Victoria Cross Memorial

The Victoria Cross

The Commonwealth's premier military decoration awarded for:

"the most conspicuous bravery, a daring or pre-eminent act of valour or
self-sacrifice or extreme devotion to duty, in the presence of the enemy"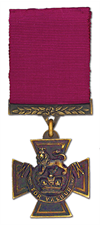 Since the original Victoria Cross was established by Queen Victoria on January 29th, 1856, 99
[1]
Canadians have received the prestigious award. Yet, nowhere in Canada until 2017 with the official dedication of the Victoria Cross Memorial at York Cemetery had all 99 recipients been honoured in one location.
In recognition of Canada's 150th anniversary since Confederation, the Victoria Cross Memorial, designed by Jeff Dennis, architect and Director of Development for Mount Pleasant Group of Cemeteries, was conceived as a feature of special significance. Centrally located along the boulevard which provides a grand vista from the entrance gates at Beecroft Road to the cenotaph at Senlac Road, the memorial honours the recipients. Ninety-nine plaques provide a brief recount of the gallantry and act of bravery of each individual that resulted in the award being bestowed upon them.
An artistic representation of the Maple Leaf on Canada's flag, the memorial is partitioned in three sections: the Boer War and Prior; World War I; and World War II. There have not been any Canadian recipients of the Victoria Cross since World War II, nor have there been any recipients of the Canadian Victoria Cross which replaced the Victoria Cross in 1993.
Recognising the importance of their acts, Mount Pleasant Group of Cemeteries also organised the creation of a book, Canada's Victoria Cross Recipients which is available digitally here: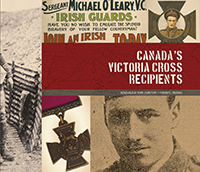 [1] Representing all Canadians in addition to those from other countries serving in a Canadian Regiment who have been awarded the Victoria Cross.