The Second Battle Of Ypres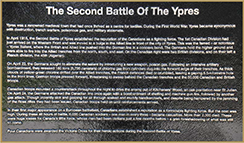 Ypres was a renowned medieval town that had once thrived as a centre for textiles. During the First World War, Ypres became synonymous with destruction, trench warfare, poisonous gas, and military stalemate.
In April 1915, the Second Battle of Ypres established the reputation of the Canadians as a fighting force. The 1st Canadian Division had just arrived on the Western Front and was moved to a bulge in the Allied line in front of the city of Ypres. This was the famed – or notorious – Ypres Salient, where the British and Allied line pushed into the German line in a concave bend. The Germans held the higher ground and were able to fire into the Allied trenches from the north, south, and east. On the Canadian right were two British divisions, and on their left a French division, the 45th (Algerian).
On April 22, the Germans sought to eliminate the salient by introducing a new weapon, poison gas. Following an intensive artillery bombardment, they released 160 tons (5,700 canisters) of chlorine gas from cylinders dug into the forward edge of their trenches. As thick clouds of yellow-green chlorine drifted over the Allied trenches, the French defences died or crumbled, leaving a gaping 6.5-kilometre hole in the front lines. German troops pressed forward, threatening to sweep behind the Canadian trenches and the 50,000 Canadian and British troops.
Canadian troops mounted a counterattack throughout the night to drive the enemy out of Kitcheners' Wood, an oak plantation near St Julien. On April 24, the Germans attacked the Canadian line once again with a bombardment of shelling and machine gun fire, followed by another gas attack. Though violently sick and gasping for air through soaked and muddy handkerchiefs, and despite being hampered by the jamming of the Ross rifles they had been issued, Canadian troops held on until reinforcements arrived.
In their first major appearance on a European battlefield, Canadians established a reputation as a formidable fighting force. But the cost was high. During these 48 hours of battle, 6,035 Canadian soldiers – one man in every three – became casualties. More than 2,000 died. These were huge losses for Canada's little force, whose men had been civilians just a few months before – a grim foreshadowing of what was still to come.
Four Canadians were awarded the Victoria Cross for their heroic actions during the Second Battle of Ypres.
Click on the images below to view video documentaries regarding the Second Battle of Ypres.
| | | |
| --- | --- | --- |
| | | |
| Life In The Trenches | | Baptism Of Fire For Canada |