The Battle of Somme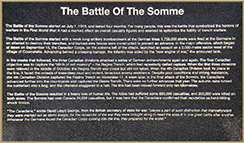 The Battle of the Somme started on July 1, 1916, and lasted four months. For many people, this was the battle that symbolised the horrors of warfare in the First World War; it had a marked effect on overall casualty figures and seemed to epitomise the futility of trench warfare.
The Battle of the Somme started with a week-long artillery bombardment of the German lines: 1,738,000 shells were fired at the Germans in an attempt to destroy their trenches, and barbed-wire fences were constructed to prevent an advance. In the major offensive, which began at dawn on September 15, the Canadian Corps, on the extreme left of the attack, launched an assault on a 2,000-metre sector west of the village of Courcelette. Advancing behind a creeping barrage, the infantry was aided by the "new engine of war," the armoured tank.
In the weeks that followed, the three Canadian divisions attacked a series of German entrenchments again and again. The final Canadian objective was to capture the "ditch of evil memory" – the Regina Trench, which had repeatedly defied capture. When the first three divisions were relieved in the middle of October, the Regina Trench was closer but still not taken. When the 4th Canadian Division took its place in the line, it faced the ordeals of knee-deep mud and violent, tenacious enemy resistance. Despite poor conditions and strong resistance, the 4th Canadian Division captured the Regina Trench on November 11. A week later, in the final attack of the Somme, the Canadians advanced further into the countryside and captured the Desire Trench. There were no further advances that year. The autumn rains turned the battlefield into a bog, and the offensive staggered to a halt. The line had been moved forward only ten kilometres.
The Battle of the Somme resulted in a heavy loss of human life. The Allies had suffered some 650,000 casualties, and 200,000 were killed on both sides. The Somme had cost Canada 24,029 casualties, but it was here that the Canadians confirmed their reputation as hard-hitting shock troops.
"The Canadians,"
wrote David Lloyd George, then the British secretary of state for war,
"played a part of such distinction that thenceforward they were marked out as storm troops; for the remainder of the war they were brought along to head the assault in one great battle after another. Whenever the Germans found the Canadian Corps coming into the line, they prepared for the worst."
Click on the images below to view video documentaries regarding the Battle of Somme.


The Battle of Somme

The Battle of Somme
- 100 Years On


Conditions in the Trenches







The Somme From
Defeat to Victory