The Battle of Beaumont-Hamel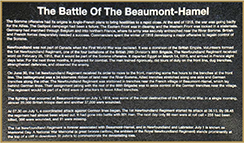 The Somme offensive had its origins in Anglo-French plans to bring hostilities to a rapid close. At the end of 1915, the war was going badly for the Allies. The Gallipoli campaign had been a failure. The Eastern Front was in disarray and the Western Front was locked in a stalemate. Germany had marched through Belgium and into northern France, where its army was securely entrenched near the River Somme. British and French forces desperately needed a success. Commanders spent the winter of 1916 developing a major offensive to regain control of the Somme.
Newfoundland was not part of Canada when the First World War was declared. It was a dominion of the British Empire. Volunteers formed the 1st Newfoundland Regiment, one of the four battalions of the British 29th Division's 88th Brigade. The Newfoundland Regiment received word on February 25, 1916, that it would be part of the Somme offensive. It departed Egypt on March 14, 1916, and arrived in France eight days later. For the next three months, it prepared for combat. The men trained rigorously, did tours of duty on the front line, dug trenches, strengthened defences, and observed the enemy.
On June 30, the 1st Newfoundland Regiment received its order to move to the front, marching some five hours to the trenches at the front line. The battleground was a 34-kilometre ribbon of land near the River Somme. Allied trenches stretched along one side and German trenches along the other. The Newfoundland Regiment was stationed in trenches near the French village of Beaumont-Hamel, which lay behind German lines. Their assignment (along with the rest of the 88th Brigade) was to seize control of the German trenches near the village. The regiment would be part of a third wave of attackers to leave Allied trenches.
The fighting that occurred at Beaumont-Hamel on July 1, 1916, was some of the most destructive of the First World War. In a single morning, almost 20,000 British troops died and another 37,000 were wounded.
At 07.30 on July 1, a coordinated attack against German lines began. The 1st Newfoundland Regiment started its attack at 09.15. By 09.45 the regiment had almost been wiped out. It had gone into battle with 801 men. The next day only 68 men were at roll call – 255 had been killed, 386 were wounded, and 91 were missing.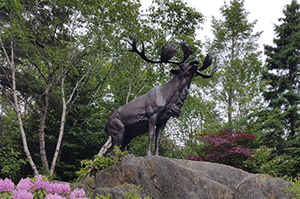 The 1st Newfoundland Regiment is forever associated with Beaumont-Hamel, and in Newfoundland and Labrador, July 1 is known as Memorial Day. A National War Memorial (a great bronze caribou, the emblem of the Royal Newfoundland Regiment) stands prominently at the top of a cliff in downtown St John's to commemorate the devastating loss.




The Newfoundland Regiment
Part I - Before Beaumont-Hamel


The Newfoundland Regiment
Part II - Beaumont-Hamel

Beaumont-Hamel







Remembering the Battle of Beaumont-Hamel